Seaward Bound
Vol. 3, 2021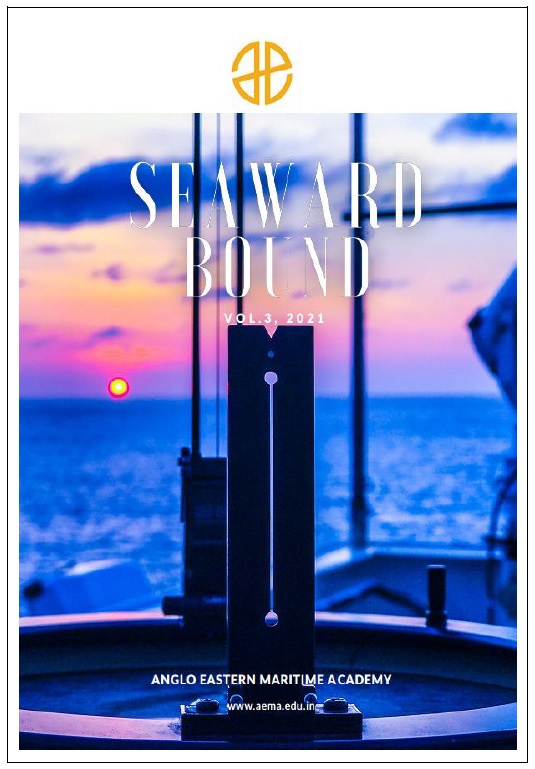 Welcome to Seaward Bound's edition number 3 of 2021. As the Engineers of GME 31, set out on the most exciting phase of their young lives, Seaword Bound salutes their resilience, positivity, and indefatigable spirit for completing training in the midst of a pandemic. Capt. Sule plays a fitting tribute to them in his foreward.

This issue also celebrates the promotion of Capt. Shabaz Qureshi (DNS-1/ AEMA), the first AEMA cadet to raise the coveted rank of Master. Read more about him and his career graph in the following pages.

We hope you gain food for thought and reflection in these carefully curated pages.

Happy Reading!
01 PRINCIPAL'S FOREWORD
02 ARTICLES BY FACULTY MEMBERS

03 KNOW YOUR TEACHER
04 PHOTO GALLERY

05 ARTICLES BY CADETS
06 SKETCHES BY CADETS

07 PHOTOGRAPHS BY CADETS
28 EVENTS AND ACHIEVEMENTS
Team SEAWORD BOUND –
Mr. C. Maheshwar
Ms. Salini Krishnan
Cadet Avichal Tanwar (GME 33)
To download the latest edition of Seaward Bound please click on below given download button.